Business Area Introduction
Korea Sensor Lab is a high-tech business established with a goal of becoming the world's premier solution for reliability and noise assessment/analysis. Semiconductor devices stand out in the field of semiconductors as thousands to several billions of such devices are used within a single semiconductor cell. Thus, in order to produce a semiconductor chip as shown below, the appropriate semiconductor devices must be developed preliminarily and their reliability, low-frequency noise properties, and analogue properties, among others, are crucial elements of this process. Korea Sensor Lab offers a total solution that addresses everything that falls under semiconductor devices including MOSFET, BJT, resistors, capacitors, and inductors. Additionally, Korea Sensor Lab offers test analysis and development consultation on bio devices/sensors and MEM devices/sensors.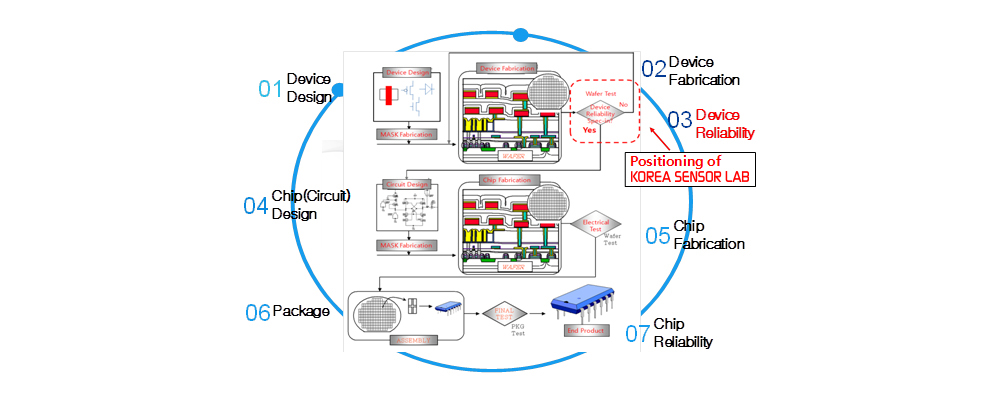 The semiconductor industry is witnessing a rise in the influence of non-memory semiconductors, especially of analog semiconductors, as our smart device usage grows every day. Domestic semiconductor manufacturers are transitioning over to the non-memory semiconductor industry with an emphasis placed on small quantity batch production. With the increase in variety, the volume of semiconductor devices and chips requiring reliability testing has been seeing a dramatic rise. Because each component of the semiconductor must pass a series of quality criterions prior to production, reliability testing performed for semiconductor devices are crucial for the final product. Additionally, because of the lack of expertise in precision analysis and assessment of low-frequency noise characteristics, core features of analog semiconductors, manufacturers are facing adversity in establishing seamless development processes for such products. Low-frequency noise is highly influential in the performance of not only analog semiconductors, but various fine sensors including bio sensors and infrared sensors, as well as RF circuits. Non-memory semiconductors, MEMS devices/sensors, and bio devices/sensors require, in addition to those mentioned above, an array of assessments and analyses, which Korea Sensor Lab is specialized for.
High-Tech Business Area of Korea Sensor Lab
※ Takes you to the corresponding page by clicking the field you want to display.